Highly transparent sheet to produce protection products against Covid-19

Due to the sanitary crisis caused by Covid-19, many companies have decided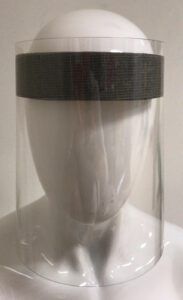 to reinvent themselves by expanding their product portfolio in items designed to reduce the chances of infection of the virus. Following this trend, Parnoplast analyzed the way of attending this increasing need by improving the performance of a product which it had previously manufactured: transparent APET sheets.
This way, the Department of Product Development studied the market requirements which demanded a product with high transparency and clarity, high resistance to impact and good resistance to chemical products. The company afterwards developed a product called High transparency sheet of PET destined to this type of application. This product was certificated by AITEX Institute as material that keep to the regulation EN 167:2001 (point 4.2.2) of the Diffusion of light.
The high transparency sheet of PET can be used in the manufacture of facial protection screens or in the manufacture of partition screens, either for interior or exterior spaces, with permanent or movable fastening systems.
These products are entirely recyclables and reusables, thus respecting the environmental philosophy of Parnoplast.
You can contact our Sales Department to ask for more information.